The phrase vintage gets thrown around a lot, especially when it comes to clothing or sought-after home decor pieces. But you'd be forgiven for not being too sure what vintage clothing actually is.
While many people might think that vintage clothing just refers to that amazing band t-shirt from the 1970s that you were lucky enough to find in a charity shop, it actually means a lot more than that. This guide contains everything you need to know about vintage designer clothing so you can supplement your wardrobe with all things vintage.
What Is Vintage Clothing?
Broadly speaking, vintage clothing can often also be called "Retro" clothing, and these terms are used to describe clothes that were manufactured or popular during previous eras. For example, the flared jeans which were popular in the 1970s would now be sold as vintage flared jeans, which are having a massive resurgence in popularity.
What Is The Difference Between Vintage And Retro Clothes?
However, the use of the term 'retro' is becoming more widely accepted in the fashion industry to simply describe the look and theme of an item of clothing that is similar to a fashion piece from a particular era.
Many of the manufacturers who produce quick selling, lower-priced items of clothing will now advertise these modern pieces as being "Retro" in design, rather than being "Vintage". So if you're truly looking for 'vintage' clothing this is something to watch out for when purchasing clothes either online or in-store. Especially if it's important to you to be buying something which is genuinely from a different era and not just designed to look that way.
FAQs About Vintage Clothes
How Old Does Something Have To Be To Be Vintage?
Within the fashion industry, it's generally accepted that anything which is classed as "vintage" is between 25 and 100 years old. Anything older than this is usually referred to as "antique" and needs a great deal more love and care if the items are still being worn on a regular basis.
So although it might not feel as though the 1920s was 100 years ago, items from this era that still exist can still be worn (with a little extra care) today, they are also usually classed as being "vintage" when listed in online stores.
Why Is Vintage Clothing Popular?
Along with the usual habit of once-popular trends making a repeated appearance in fashion again, it's also been the fact that consumers are now having their attention drawn to how damaging the "fast fashion" industry can be which has increased the demand for vintage fashion.
While fast and cheaper fashion has been immensely popular over the past few years, the focus on sustainability and recycling has brought about a renewed love and requirement for finding vintage pieces which have already been able to withstand the test of time.
The introduction of "Retro Looking" pieces has made shoppers fall back in love with fashions typically seen in the 70s and 80s, which has made it easier for shoppers to gain some inspiration when shopping in vintage stores and charity shops to try and recreate these looks.
When Did Wearing Vintage Clothes Become Fashionable?
Interestingly, the wearing of "vintage" clothing actually started in the 1960s and was massively popular for a long time. As the children of war time parents, it was quite common for the trend of "make do and mend" to be passed down the generations and the creation of popular clothing items from vintage fabrics was very common across the UK.
The History of Vintage Clothing
From the 1970s, vintage clothing was thought of as being a more bohemian or alternative way to dress and was adopted by those who were either struggling slightly from an economic perspective or who identified as anti-consumerist.
Eventually from the 1980s onwards, vintage clothing became popular across most of the population of the younger generation, regardless of socioeconomic status, especially when regarding vintage designer pieces, which were finally held in such high regard that consumers would happily pay high prices to own a well-made and classic designer item.
Where Can I Buy Vintage Clothes?
Vintage fashion has come a long way since the 70s. Now we can find hidden gems in the independent clothes retailers that you can find in many towns and cities. But with the increasing number of us shopping online, it might not be surprising to hear that that are some great websites that also stock vintage items in great condition.
For cheaper priced clothes from the 80s and 90s, sites such as the ASOS marketplace have become a fantastic place to pick these pieces up as well as being able to shop for more modern clothing too. For high-end clothing and designer vintage items, it's actually becoming increasingly common to find these in clothes auctions, which are beginning to spring up around the country. These auctions allow the buyer to take a look at the clothing items and then go up against other eager bidders to secure the vintage piece of their dreams.
If you're lucky enough to live in or near to some of the larger cities in the UK, you should be able to find some really cool vintage clothing stores.
For those living in Manchester, there's some excellent vintage boutiques nestled within the Northern Quarter.
For those living in London, places such as Brick Lane are filled with fantastic vintage clothing stores where we're sure you'll be able to find some rare and amazing pieces. Those who are looking for both vintage clothing and a more modern-retro look, places such as Camden Market are well worth a visit, especially if you're looking for vintage looks from the 60s and 70s.
If you live in the North of England, Newcastle Upon Tyne has a large vintage store within the city centre.
Venturing further down the country to Cornwall, vintage clothing shops are a little more difficult to find. However, Truro offers a decent selection of vintage stores for all price budgets.
If you don't live near larger cities, fear not! There's still some vintage gems which can be found in your local charity and vintage shops when you least expect it. But, one piece of advice that we've found to be really useful is that, if you're on the hunt for vintage designer clothing, be sure to visit charity shops within more affluent areas, as you're more likely to find some stunning pieces for an absolute bargain.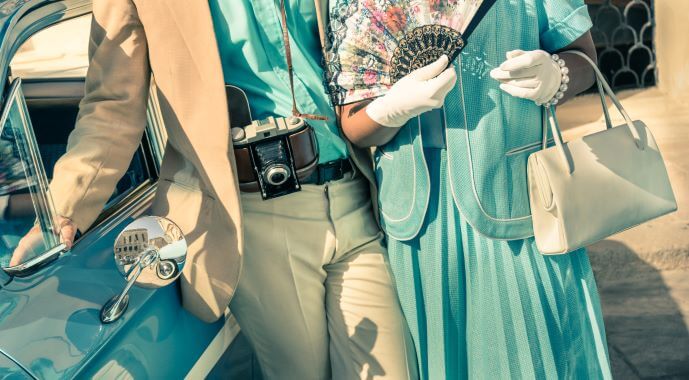 Another thing to note about purchasing vintage clothing is the fact that the sizing even from as recently as the 1970s, can be much smaller than the clothing sizes today and so it's always worth bearing this in mind especially when purchasing these items online.
Most sellers on sites such as Ebay will sell fantastic vintage pieces but won't accept returns due to the fact that constant shipping and handling can damage these items, and so it's really important to take your measurements before deciding whether to buy that vintage piece that you've had your eye on for a while.
Other Fashion Trends To Watch
It's not just vintage that is coming into trend this year. Did you know knits and sweats are becoming one of the biggest fashion movements this century? Read how knitting has shifted from boring to trendy.